Create a PDF table of contents to help readers understand the document's structure and quickly find the information they need.
Have you shied away from adding a table of contents to a PDF document because you thought it was probably hard to do?
If so, you'll be pleased to discover that PDFpenPro was designed to make adding and editing tables of contents accessible, even to the not-so-tech-savvy.
Once you learn the basic steps to creating and editing a table of contents – or TOC – in PDFpenPro, you'll want to create one for every PDF.
Why Add a Table of Contents to a PDF
"If there's one thing I've learned writing documentation for software and other procedures, it's that people love a good table of contents. I include a TOC in almost every document I create, and when someone gives me a document to edit and make pretty, I add a TOC whenever appropriate."

Jeff Davis, TechRepublic
It's true. Everyone appreciates a table of contents – at least in the lengthy reports, academic papers, and textbooks they're reading for school or work. Here's why:
By providing an overview of what's inside documents and a roadmap for navigating them, TOCs help save people time and hassle.
By breaking down content into sections, chapters, and subtitles, TOCs help readers quickly assess whether or not documents have what they're looking for.
By indicating the page numbers of sections and chapters, TOCs enable readers to locate the information they need quickly.
For online readers, a hyperlinked TOC enables navigation to a section or chapter.
How to Add a Table of Contents to a PDF Document (PDFpenPro Feature)
Follow these steps to add a table of contents to the PDF:
Note: If the PDF is password-protected, you'll need to enter a password before you can add a TOC.
Open a PDF in PDFpenPro. Choose View > Table of Contents
Using the Select Text tool, select a heading in the PDF document.
Go to Edit > Table of Contents > Add Entry.
Tip: You can also add an entry by right-clicking your mouse, then choosing Add TOC Entry from the context menu. Or, use the Table of Contents action menu accessible via the gear icon on the bottom left side of the sidebar, as shown in the GIF below:
Use "Add Child" to nest an entry within another. Use "Add Aunt" to add an entry one level above.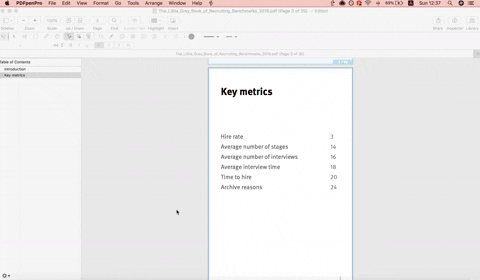 To rename an entry, double-click it, type the new name and press Return.
How to Reorganize a Table of Contents in PDFpenPro
At some point, you might need to change the order in which the entries appear, add a hierarchy, or delete entries and sub-entries. Here's how to do each:
To change the order in which an entry appears, drag the entry up or down to the desired position.
To delete an entry, select it, then press Delete on your keyboard, OR click it, then choose Remove Entry from the Table of Contents action menu.
To nest or unnest an entry, drag to the desired position, OR use the Demote and Promote commands from the Table of Contents action menu.
Note: You can also delete or reposition an entry in your TOC by right-clicking it, then choosing Remove Entry, Demote or Promote.
View a Table of Contents in a PDF Document
One of the easiest ways to navigate a PDF document is to use its table of contents. If a PDF document has a TOC for helping you navigate the content, you can view it in PDFpen by choosing View > Table of Contents.
When you do, a sidebar appears on the left showing you the main entries and the sub-entries. You can click any entry or sub-entry to navigate to the associated page.
How to Export TOC Data
There's a chance you might need to copy the entries in a TOC over to someplace else – an email, a Google Doc, Evernote.
To do this, select an entry, then choose Edit > Select All to select all entries. You can then copy and paste them wherever you like.
Your Turn
Want to add tables of content to your PDFs, but don't have PDFpenPro? Download a free trial.
What are your thoughts on working with tables of contents in PDFpenPro? Let us know @PDFpen and on Facebook.